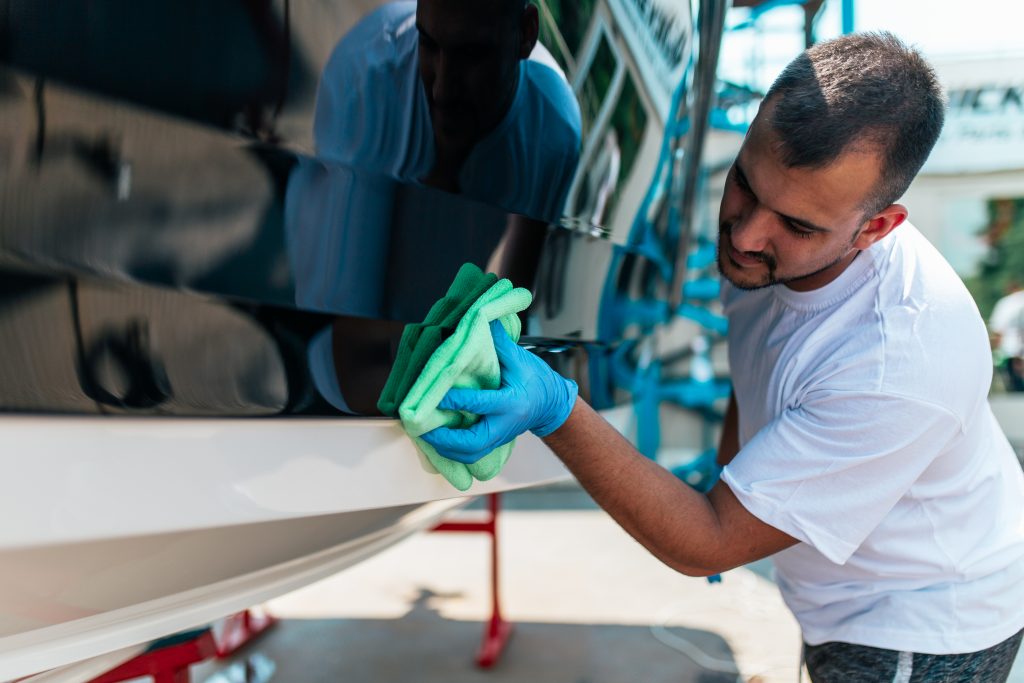 Whether you own a small sailboat or a fleet of tankers, marine paint is essential for maintaining your seafaring vessels.
Finding the right brand and marine paint supplier is important, and that's why we've compiled a list for everyone! If you're searching for marine paints, you could be a big-time fleet manager or a simple Jon Boat or fishing boat.
That's why we've broken this article up into two sections: One that focuses on smaller civilian vessels (where you may only need a few gallons of paint), and one that focuses on large commercial vessels for marine coatings. If you're a fleet manager or have a commercial project, consider contacting one of our trusted coatings suppliers to help you save time and money.
If you're looking for the best marine paint for wood, check out our latest article.
Marine paint for smaller boats and personal use
The first thing to consider when buying marine paint is what area of the boating you're painting.
Antifouling coatings are important for the bottom of a boat
Anti-slip coatings are necessary for decks
Urethanes and epoxies work well on railings, cargo, and miscellaneous areas of the ship
Primers ensure your coating applies properly and last longer
Check out our article on boat bottom paint for more antifouling coatings.
Let's look at a few of the most popular brands you can easily purchase online.
Rust-Oleum marine paint products
Duralux marine paint products
Totalboat marine paint products
BlueWater marine paint products
Heads up: IPP Magazine earns a commission if you purchase through the affiliate links below.
Rust-Oleum marine paint
Rustoleum marine paint is a great option for the economically conscious consumer. While they aren't the most premium brand in the boat coat space, they're worth checking out if you're on a budget.
Let's talk about their most popular topside, antifouling, and primer options.
Rust-Oleum 206999 Marine Topside Paint
Rustoleum has a ton of awesome coatings for boats, and one of their most simple offerings is the Rust-Oleum 206999 Marine Topside Paint. As a top coating, you'll want to put this paint above the waterline to avoid corrosion.
It's one of the most affordable options, coming in at only $16.28 a gallon!
Key features of Rust-Oleum Topside Paint
Available colors include: White, black, red, green, navy blue, oyster white, sand beige, semi-gloss white, and battleship grey
Dries under two hours
Cover 100 square feet
Durable, abrasion resistant, and UV-resistant
UV-resistance is one of the most important factors to consider when buying a top-coat, so this one is worth adding to your maintenance plan.
Rust-Oleum 206999 Marine Topside Paint, Gloss White, 1-Quart
Rust-Oleum 207012 Marine Flat Bottom Antifouling Paint
Rust-Oleum also offers a great boat bottom / antifouling paint. You'll notice the price more than doubles from the top-coat above, because antifouling paint requires a special coating that protects against fouling (barnacles, algae, and microbiology).
Luckily, at the time of posting, a 19% discount is available through the Amazon link below.
Key features
Works on wood, steel, or fiberglass
Takes 4 hours to recoat, 16 hours for full coverage
110 square feet of coverage
Suitable in both fresh and saltwater conditions
Rust-Oleum Available 207012 Marine Flat Boat Bottom Antifouling Paint, 1-Quart, Black
Rust-Oleum 207014 Marine Wood and Fiberglass Primer
Last on our list is Rust-Oleum 207014 Marine Wood and Fiberglass Primer. While both of the paints above can be used on wood and fiberglass, you'll also want to prime the surface of your boat with a paint primer. That's where Rustoleum's marine primer can help.
This coating only comes in white, but that's ok because you'll paint over it once priming is complete.
Key features
Marine primer allows for better adhesion of topcoats
Ideal for fiberglass and wood surfaces
Enhances corrosion resistance of topcoat
Duralux marine paint
Duralux is another popular option for boat lovers. Fair warning though: These paints can get expensive very quickly. That's probably because Duralux can be used on commercial and civilian vessels – making it a heavy duty brand for serious boat enthusiasts.
Duralux M736-1 Aluminum Boat Marine Paint
As we mentioned above, Duralux ain't cheap! One gallon will cost $74.99 with an 11% discount off the typical $84 price tag.
This stuff is used for anything from oil rigs to personal boats and skids. Note that this product is specifically for coating aluminum surfaces – it's important to know what your boat is made of before buying!
Key features
Rust and corrosion resistant
Professional quality
Used for underwater structural assets as well as boats
Duralux M736-1 Aluminum Boat Marine Paint, Green Boat Paint, 1 Gallon
TotalBoat marine paint
TotalBoat is a happy medium between the more expensive and cheaper paint options mentioned in this article. Let's start by mentioning a deck coating that's popular among boat lovers.
TotalBoat TotalTread Non-Skid Deck Paint
This non-slip deck paint offers a comfortable, rubberized texture intended for heavy to medium trafficked areas of a boat. It's made out of polyurethane, which is both UV and abrasion resistant. Polyurethanes are also "softer" in texture than hard epoxies, meaning there's more give when you walk on it.
Key features
Non-slip paint for decks, docks, cabins, stairs, and more
1-part paint makes it easy to apply with a brush or roller
Available in beige, grey, light grey, and white
UV resistant means it won't fade in the sun
TotalBoat TotalTread Non-Skid Deck Paint, Marine-Grade Anti-Slip Traction Coating for Boats, Wood, Fiberglass, Aluminum, and Metals (Light Gray, Quart)
TotalBoat Aluminum Boat Paint (For Canoes, Bass Boats, Dinghies, Duck Boats, Jon Boats and Pontoons)
Do you have a smaller vessel, like a bass boat or jon boat? TotalBoat has you covered. This aluminum one-part polyurethane marine paint is perfect for smaller boats.
Key features
One-part polyurethane for easy application
Low-sheen finish creates camouflage effect when hunting
Dires FAST – only takes 1 hour at 72 degree Fahrenheit!
Environmentally friendly – low VOC, low odor
Lots of color options from earth brown, khaki, black, white, light gray, and army green for camouflage
TotalBoat Aluminum Boat Paint for Canoes, Bass Boats, Dinghies, Duck Boats, Jon Boats and Pontoons (Light Gray, Quart)
TotalBoat Underdog Boat Bottom Paint
Remember how we said TotalBoat paints are more economical than the premium brands? That's true for smaller vessels like a pontoon.
Unfortunately, TotalBoat boat bottom paints tend to get a little price.
TotalBoat Underdog Boat Bottom is still worth checking out, but you might want to consider a cheaper option if budget is a concern.
Key feature
Protects below the water line against low fouling conditions
Durable finish
Ablative coating release biocide to kill microbiology that can attach to your hull
Easy application
TotalBoat Underdog Bottom Paint (Blue) Gallon
BlueWater marine paint
Blue Water Marine Shelter Island is as premium as it gets. With this brand you'll find environmentally friendly options (why do you think they're called "BlueWater"?) at a higher cost.
Blue Water Marine Shelter Island Bottom Paint
The Blue Water Shelter Island series comes with a copper free, ablative bottom paint. What does that mean? Well, this marine coating has a biocide that isn't as rough on the environment – most antifouling coatings are environmentally destructive by nature, so this provides an option for the environmentally conscious consumer.
Key features
$64.88 per quart
Environmentally friendly, copper-free biocide
Improve speed and performance without dragging your hull
Blue Water Marine Shelter Island Plus Copper Free Ablative Bottom Paint (Royal Blue, Quart)
Marine paint for industrial applications
Obviously, if you own or manage a huge fleet of fresh or salt water vessels, your purchase process is going to look a lot different than buying paint off Amazon. The stakes are a lot higher, and you're going to want to consult with a marine industrial coatings professional.
You've probably heard of the following companies:
International Marine: One of the largest brands under the AkzoNobel conglomerate. Huge inventory and a diverse array of product
PPG Marine: A Fortune 500 company and major player within the marine coating industry. They operate a huge supply chain across the globe. 
Sherwin Williams Marine: Sherwin Williams doesn't just serve residential clients, they also cater to some of the biggest manufacturers of marine equipment and ships. 
Of course, we recommend you partner with one of our partners by using this link. We've already vetted top-rated suppliers to help fleet owners find the best coatings for their project.