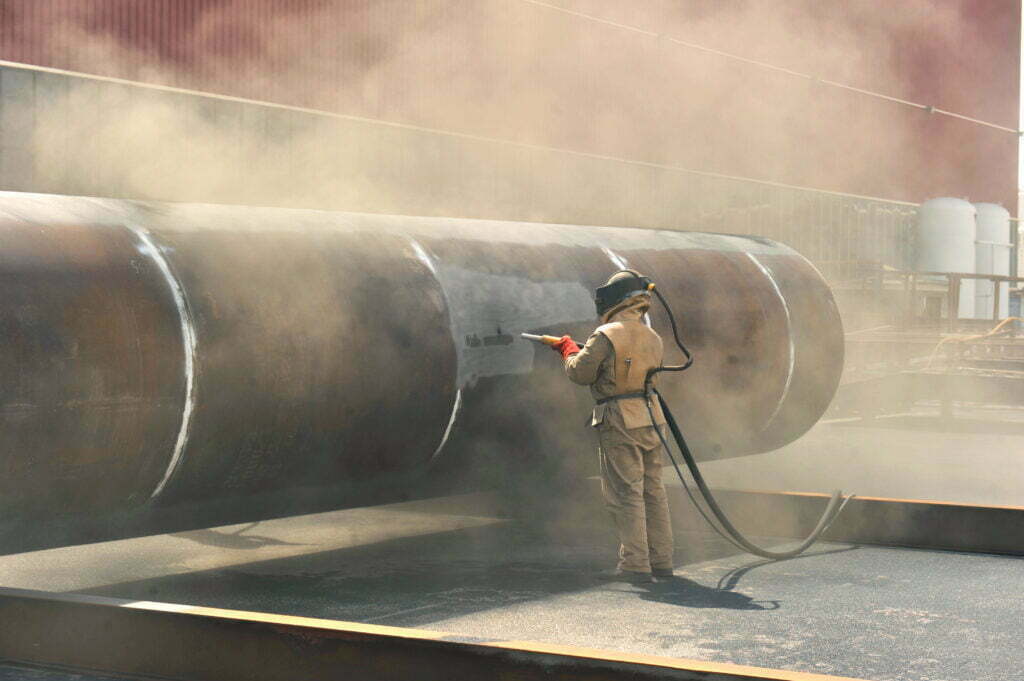 Editor's Note: IPP Magazine may receive a commission for affiliate links.
Are you looking for the best industrial sandblaster guns in 2023?
We've found a wide selection of top-quality sandblasters that are perfect for any industrial application. We have compiled a list of the best sandblaster guns and update it regularly to ensure that you are always getting the latest and most outstanding products.
Why Do Industrial Painters Use Sandblasters?
Sandblasters are industrial tools used by industrial painters to remove paint, dirt, and rust from surfaces.
They use high-pressure air or water mixed with sand or other abrasive materials to blast away the unwanted substances on surfaces.
Sandblasters are one of the best ways for industrial painters to prepare surfaces before painting them and to maintain them afterward.
How to Choose a Quality Sandblaster Gun
When looking for the best sandblaster, you should consider the following criteria: size, airflow strength, and blasting pressure.
Size
First, the size of the sandblaster should be considered according to the industrial painting application.
A large industrial sandblast gun is necessary for industrial applications, while a smaller portable version is perfect for home or automotive uses.
Airflow Strength (CFM)
Next, airflow strength determines how efficiently the sandblaster works. The higher the airflow, the faster and more effective the industrial painting job will be.
Blasting Pressure (PSI)
Finally, the blasting pressure is another critical factor to consider when choosing an industrial sandblaster.
Keep in mind the higher the pressure, the more powerful the blast will be, thus more efficiently removing dirt and paint from surfaces.
Best Sand Blaster Guns in 2023
Now that you know what criteria to look for when choosing an industrial sandblaster let's look at the best industrial sandblaster guns in 2023.
Editor's note: We're specifically rating the sandblaster guns themselves. Not all models come with the tanks or blasting material.
Overall, the LE Lematec SandBlaster Gun Kit is our top pick for industrial paint and sandblasters.
It features a powerful and adjustable flow rate, has a lightweight aluminum body for easy portability, and comes with a range of accessories.
Its operating pressure is a powerful 90-150 PSI with a recommended CFM of 7-12.
This industrial-grade sandblaster is perfect for industrial applications, and it's less than $80!
Amazon Review – Aquarius Fabrication
4.0 out of 5 stars
"This thing does well with the lighter glass abrasives. I'm using a pretty strong air compressor, and it's rated at 150 psi…an excellent product."
Next, the Performance Tool M549 Portable Abrasive Blaster Kit is the best portable industrial sandblaster on Amazon.
Its lightweight and compatible size make it a great tool to use with various vehicles.
In addition, it can be used with multiple abrasives such as silica, glass beads, or pecan shells.
Currently, it is on sale for $78.28, which is 17% lower than its regular price!
Verified Review – Brad M. AKA Capsar
5.0 out of 5 stars
"…I used to do a small tractor and a couple of garden tractors, then distressed some wood and a whole bunch of little restoration projects. It's never failed to do a great job."
At a low price of $29.99, the TCP Global Gravity Feed SandBlaster Gun Kit is the lowest-priced sandblaster on our list. Besides being affordable, this gun kit has some great perks.
First, this portable, handheld unit comes with multiple ceramic nozzles and a pressure regulator gauge.
In addition, for such a small unit, it is able to hold up to 30 ounces of abrasive blast media.
Customer Review – A. Gough
4.0 out of 5 stars
"It was easy to set up and fill but seemed to use a lot of media. It works pretty well for small jobs and light blasting. Light rust and paint come off reasonably quickly."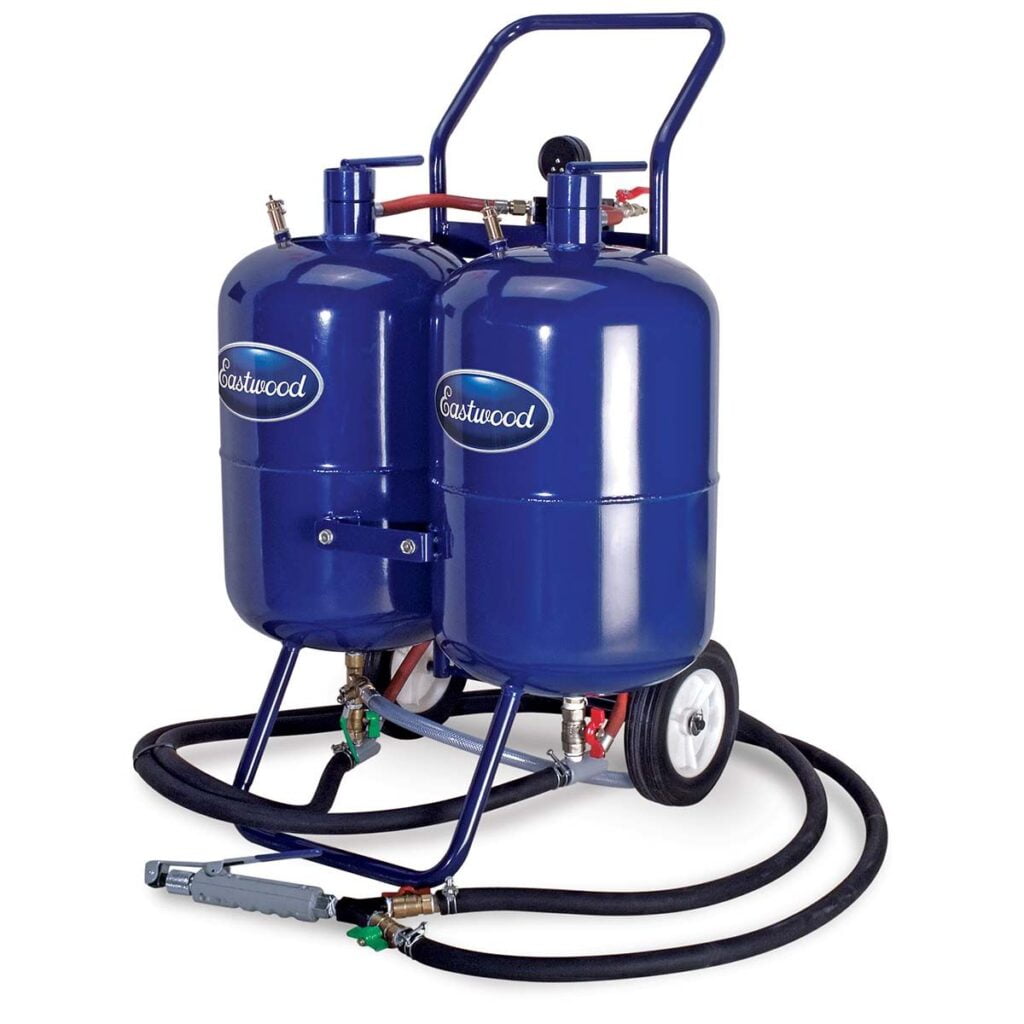 The Eastwood Master Dual Abrasive Soda Blaster has all the features industrial painters need. It's an excellent choice for industrial applications such as paint removal or surface preparation.
With its powerful motor, adjustable pressure settings, and durable construction, it's no wonder why industrial painters love this industrial sandblaster.
However, unlike models for more casual users, there is a lofty price tag ($599.99).
There are no customer reviews for this model, but 41% of past buyers gave it a 5-star rating!
Best Sandblaster for Cars: Eastwood Pressure Abrasive Blaster
The Eastwood 100lb Pressure Abrasive Blaster is perfect for removing rust and paint from cars.
With its adjustable pressure settings (requires just 10 cfm at 90psi), comfortable grip handle, and lightweight body, this industrial sandblaster gun is the ideal tool for car owners.
Unfortunately, it is also pretty pricey at $299.99, so this is definitely not for hobby car painters.
Customer Review – Steve
5 out of 5 stars
"It was easy to set up and adjust with the instructions. I used it to blast out the windshield and rear window channels on my Olds 442, as well as the firewall."
The Wogoboo SandBlaster Kit is the best industrial sandblaster kit for small projects. It features a four-piece adjustable ceramic nozzle.
In addition, the comfortable cast aluminum gun handle is perfect for extended use.
This multipurpose tool is ideal for a variety of big and small jobs, including refurbishing brickwork, cleaning metal car rims, and removing rust from fences.
Jump on this one soon and get a 5% off coupon!
Customer Review – Eric
5.0 out of 5 stars
"A lot better than I was expecting! I figured it would be on par with HF for the price, and boy was I surprised. The media feed hose is a little on the short side for my blasting cabinet, but that's easy to change. The tips are similar, if not the same as the pack you can buy at HF, but the blasting gun itself is built well and functions great."
Where to Find the Best Sandblaster Guns Online
In conclusion, industrial painters must consider size, airflow strength, and blasting pressure when looking for the best industrial sandblaster guns.
Whether you need an industrial-grade option, a portable version, or something in between, there are plenty of great industrial sandblaster guns available on Amazon.
Be sure to check out the list of our top picks above to find the right industrial sandblaster for your needs.
With the correct industrial sand blaster, you can finish industrial projects quickly, effectively, and with ease. Happy Shopping!
Sandblaster Gun FAQs
What is a sandblaster used for?
Sandblasters are used for surface preparation before painting an industrial asset. Sandblasters remove old paint and rust, and they can even out abnormalities like scratches in the substrate.
Can you sandblast at home?
While you can technically sand blast at home, you should make sure you have the proper protection. Make sure you use a mask and respirator to prevent lung damage.
When was sandblasting banned?
Certain types of abrasive blasting material, namely silica, were banned in 1974 after workers were at a much higher risk of silicosis. It's important to know the risks of sandblasting and how to properly protect yourself.
What should you do if the sandblaster doesn't work?
Check that the abrasive particle isn't too large, and also confirm that the air source is pressurized properly in your user manual.
What if your sandblaster clogs?
Your air may be too humid. In environments with lots of humidity, consider installing an air control unit and air filter on your sand blaster.
What should you do if your sand blaster is leaking air?
Consider wrapping the threads of your sandblaster in electrical tape before using your blaster. This will help prevent air leaks.
What are the advantages of sandblasting?
Sandblasting can be used in a variety of applications and it's incredibly cost-effective compared to other surface preparation and material blasting solutions.
What are the disadvantages of sandblasting?
Sandblasting can cause health problems when silica-based sand is used, and operators need to wear protective gear such as respirators, masks, and goggles. You also need to properly ventilate the area you're sandblasting.