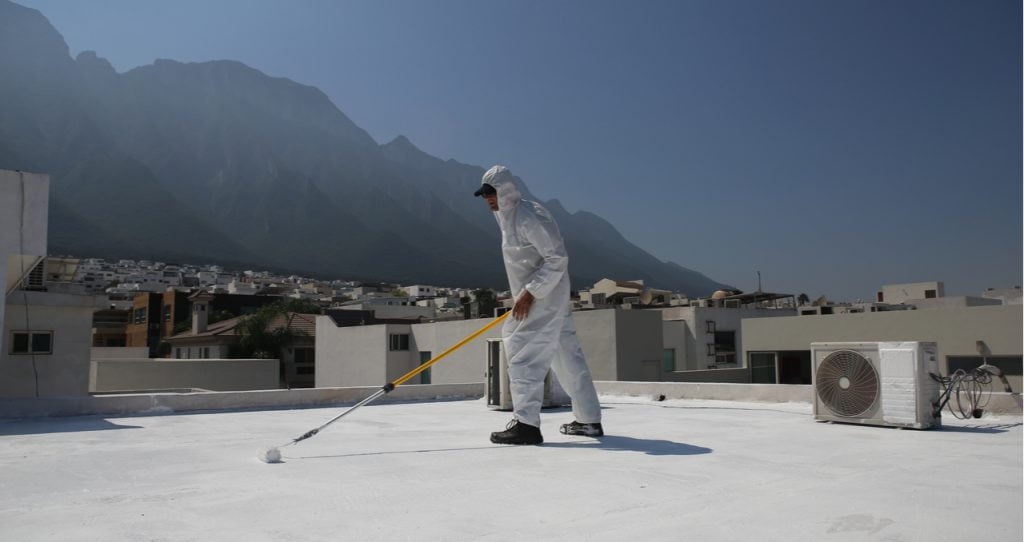 Editor's Note: IPP Magazine may receive a commission for affiliate links in this article.
Specialized coatings find wide application in the consumer and industrial marketplace. Facility managers, maintenance and repair departments, and industrial coating contractors have a variety of formulations from which to choose. The correct choice has a direct bearing on a coatings ability to perform satisfactorily.
This post focuses on a relatively new entrant to the industrial coating marketplace: polyaspartic coatings. We'll describe these coatings, the best applications for polyaspartic-based paints, and compare them to more widely known epoxy coatings.
What is a Polyaspartic Coating?
Corrosionpedia defines polyaspartic as a protective layer of aliphatic polyurea, described as a 100% solid, fast curing, two component, UV resistant coating system. Surfaces are covered by spraying, painting or plastering to prevent corrosion and erosion. These coatings are very hard and tough, properties that contribute to protecting surfaces.
Polyaspartic sealers are also described as hybrid materials resembling polyurethane. Their development dates from the 1990s, and they were originally used to maintain steel bridges.
Today there are many suppliers of polyaspartic coatings with formulations geared for specific applications.
Where are Polyaspartic Coatings Used?
Since their development, polyaspartic coatings have demonstrated superior resistance to the elements, proving resilient and effective in a variety of applications. They're most commonly used for:
Industrial, commercial, and garage flooring
Traffic stanchions and light poles
Exterior and interior surfaces in chemical and petrochemical plants
Railcar exteriors
Structural and decorative steel
Oceangoing ships and barges
Exposed oil and gas transmission lines and pump stations
etc.
In many (but not all) instances an alternative to polyaspartic coatings is epoxy coatings.
Not sure if polyaspartic or epoxy coatings are right for your project? We've found top options for your project below!
A Closer Look at Polyaspartic vs. Epoxy Coatings
We'll now take a look at these two coating systems, examining their advantages and disadvantages as described by firms employing them.
Polyaspartic Coatings – Pros
Temperature resistant – performs at -30° Fahrenheit to +140° Fahrenheit
Fast curing – five times faster than epoxy
UV-resistant – polyaspartics are non-yellowing and do not fade or peel with sun exposure
Stain-resistant – protective layer resists stains and is easy to clean
Deeply penetrating – "soaks into" concrete for longer service life
Durable – dries hard, but maintains some flexibility
Decorative – select color and chip options for a customized appearance
Low VOC and odor from out-gassing
Polyaspartic Coatings – Cons
Expensive – generally speaking, polyaspartic costs more than epoxy
Professional installation recommended – to assure a smooth, flawless finish
Short pot life – requires speed as the coating dries quickly on surfaces
Possible delamination – if a concrete floor gives off moisture polyaspartic can lose its bond
Can be damaged by battery acid – worth considering for commercial garages
Epoxy Coatings – Pros
Excellent adhesion – contributes to long service life
Bright, professional appearance – adds eye appeal
Resists heat and chemicals – supports broad areas of use
Lower cost – compared to polyaspartic sealers
Available in a wide variety of colors – facilitates color-coding equipment
Epoxy Coatings – Cons
Sensitive to UV exposure – will fade or yellow
Slippery when wet – avoid use in areas subject to spills
Long prep time before application – surfaces must be perfectly clean and dry
Long drying time – between coats and before use
Gives off fumes when wet – use in a well ventilated area or provide protection
Traps moisture below concrete surfaces – requires moisture seals to avoid damage
Editor's note: most of the disadvantages mentioned, e.g., epoxies are slippery when wet, can be modified with additives. Using the example of slippery epoxies, non-slip additives can be added to the epoxy formula before application.
Still not sure which coating is right for you? Talk with one of our partners today and receive a consultation from a qualified coatings professional!
A Key Polyaspartic Coating Market – Polyaspartic Floor Coatings
Industrial, commercial, and residential flooring is a large and well-known market for polyaspartic sealers. This market is expected to grow substantially over the coming years.
According to market reports, drivers for this growth include high product demand in flooring applications and enhanced physical appearance. Other factors include:
Growing construction activities
Rising demand for construction repair & maintenance
User demands for a protective medium in the flooring sector
One commercial installer summarized polyaspartic floor coatings as incredibly strong, resilient and long lasting – up to four times longer than epoxy.
Your Purchasing Decision: Polyaspartic or Epoxy?
We've provided you a list of pros and cons cited by industry experts to help you choose between a polyaspartic floor coating or an epoxy floor coating.
As a quick summary, key advantages of polyaspartic concrete floor coatings is the ability to perform at a wide range of temperatures from -30° Fahrenheit to 140° Fahrenheit, with high UV stability and fast curing properties.
The bottom-line: If you need a project done quickly (fast cure times), in a harsh environment (wide temperature ranges), and the asset will be exposed to direct sunlight or UV radiation (UV stability), a polyaspartic coating is highly desirable.
The other major consideration is that epoxy floor coatings, without non-slip additives, can become slippery when wet – not an ideal situation for industrial environments, where one slip can lead to a worker liability lawsuit. Non-slip epoxies exist, but you'll incur additional costs, negating one of the key benefits of going with an epoxy over the newer polyaspartic formulations.
While polyaspartic coatings tend to be more costly than epoxy coatings, we suggest that their overall score in the "pro" column warrants serious consideration for your project.
Note, however, that these finishes are not mutually exclusive. A polyaspartic finish coating can be applied over an epoxy primer.
Select Suppliers of Polyaspartic Paint and Coating
There are a number of suppliers of polyaspartic coatings. We've culled four for your consideration and include links for additional information including product data sheets.
Get Paired With a Top-Rated Polyaspartic Coating Manufacturer
Tremendous advances have been made in polyaspartic coatings since the 1990s. Various formulations have evolved to meet specific requirements of painting and coating contractors. IPP Magazine's inclusion of suppliers noted above is not to be construed as an endorsement of their products. It is intended only to help you get started on selecting the polyaspartic coating that best meets your requirements.
[thrive_leads id='653′]