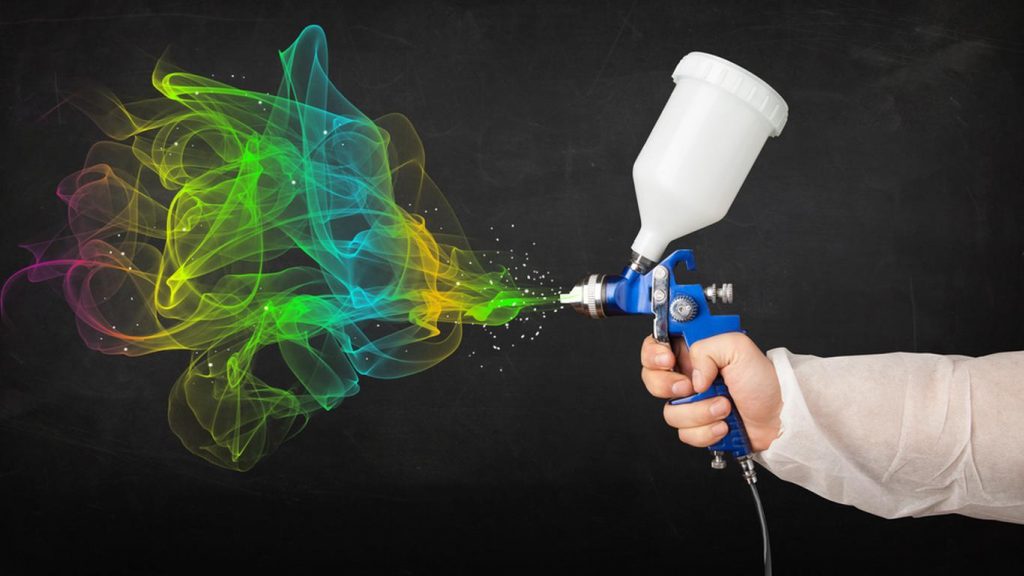 It's important to keep your working space clean while spray painting.
Having a well-ventilated space is an important part of any painting project. Blow up paint booths are an interesting option for painters without a dedicated space to paint. These inflatable spray booths provide an area free from dust, dirt, and debris.
We'll review the 12 best inflatable paint booths on the market and provide awards based on their unique advantages.
Editor's Note: IPP Magazine may receive a commission for affiliate links.
The GorillasPro Inflatable Paint Booth comes with a blower and upgraded air filter system that's environmentally friendly. It has over 22 reviews on Amazon and a 4.5 star average rating, making it the best-reviewed blow up paint boot.
Size and price:
16.5x10x8ft = $599.99
21x13x9ft = $749.99
26x16x10ft = $1,149.99
Why we like it: GorillasPro offers three different sizes at various prices to meet your paint spraying needs. Each product comes with the necessary tools to get the job done.
Key features:
1100W blower inflates the booth in minutes
Environmentally friendly filtration system
High quality, durable Oxford cloth
Bright workspace
What customers are saying:
"The paint booth sets up in minutes. You just roll it out on the floor, tie in the blower, and it fully inflates in 90 seconds."
"My husband loves it. He is painting a race car and has found this to be perfect. It has adequate ventilation, easy to install and doesn't break down. Great product and happy with the purchase."
Swinafla's inflatable paint booth has an incredible sale going on: 5% to 10% off accessories like filters and ventilation exhaust devices.
It's also extremely well reviewed, averaging 4.3 stars through 136 reviews. Customers love the great dust protection and quick set up.
Sizes and pricing:
12.5×11.2.x11.2ft = $589.99
13×8.2.8.2ft = $539.99 (with deal)
20x10x9ft = $699.99
30x20x13ft = $1,569.99
39x20x13ft = 1,998.99
Why we like it: While other products might not come with an exhaust fan for the inflatable paint booth, Sewinfla comes with three blowers. You can also get an upgraded accessory package complete for small repairs.
Key features:
Water and wear resistant
Lightweight design
High quality fabric
Interchangeable air filters
Certifications include: booth GE certificate, blower UL certificate, filter SGS certificate
What customers are saying
"We are using this more as a dust containment tent instead of a paint booth. I have it set up inside my building and have been doing tremendous amounts of cuts in the tent along with a dust collection system. It has kept the dust contained from getting into the rest of the shop very pleased we bought this."
"The overall quality of this booth is amazing so far."
You can also learn more about Sewinfla paint booths on their website.
Sewinfla paint booth accessories
If you decide to by the Sewinfla paint booth, consider the accessories you'll want for your various painting projects.
We recommend grabbing a few filters because these filters have been registered with the EPA and you might need an extra filter for all your projects. Keeping clean airflow is important when you're doing a lot of painting.
If you're painting indoors, this Sewinfla exhaust ventilation device can help keep air flowing. The also recommend a 12″ explosion proof exhaust fan and non-spark flex ducting to reduce the risk of a fire or explosion due to paint chemicals floating in the air.
We love Orionnet's air filtration system because it comes with two blowers, one to inflate the paint booth, while the other keeps the air circulating.
Sizes and prices:
13x10x8ft = $619.99
21.5x13x9ft = $959.99
33×16.5x13ft = $1,599.99
Why we like it: The Orionnet portable paint booth filtration system is unique because it offers cotton to eliminate odor and paint smells. The system also offers two CE/UL high power blowers that come with three year warranties.
Key features:
Cotton filtration system for less odor
PVC bottom for wear resistance
Blowers inflate and deflate (some systems only inflate)
What customers are saying:
"If you are looking for a structure to complete projects or painting vehicles, this product is a great economical solution."
"I didn't receive the blower initially. I contacted the seller and they were very accommodating and sent out a new blower that arrived in less than a week. I've upgraded my rating to four stars, because of the customer service I received"
"Worth every penny. Fans and blowers are super powerful. Unit is pretty heavy duty."
If you need a big boy, TKLoop's inflatable paint spray booth is worth checking out.
What's so incredible about TKLoop's paint booth system is that the 30x16x11.5ft model only costs $1,399.99. For reference, a similar model from Sewinafla will cost you around $1,565.99.
Technically, if you're looking for something even bigger, Sewinfla offers a 39x20x13ft model, but it will cost a whopping $1,998.99.
TKLoop is the best option for a large inflatable paint booth that's also affordable.
Why we like it: This is one of the best bang-for-your-buck inflatable paint booths with an exhaust fan. It comes with everything you need for a large paint project.
Key features:
Accessory package: ropes, needles, thread, nails, sandbags, repair cloth
Fresh air ventilation system
High durability with 210D Oxford fabric and PU coating
What customers are saying:
"The paint booth arrived ahead of schedule. It has worked extremely well. Everything pictured was included. The booth inflates easily and keeps debris out of the paint job."
"Easy to inflate and setup"
"This has been awesome. We just set it up and started painting our kitchen cabinets and this has been a life saver!! Exactly what we needed I highly recommend it."
Orion Motor Tech paint booths are explicitly made for automotive vehicles, and you can learn more about them on their website.
You might not realize it, but most of the products we've discussed so far are exclusively indoor inflatable paint booths. In other words, they might not hold up against rain or wind. That's where the LOVESHARE inflatable paint booth really shines.
Of course, this is one of the more expensive models, but it claims to be rainproof and to have a longer service life.
Why we like it: One of the few weather resistant models available on the market today, the LOVESHARE's inflatable paint booth is a great option for anyone without the garage space for a full booth.
Key features
Made of PVC for absolute water resistance
Anti-UV material
Flame resistant
Weather resistant
What customers are saying:
"Purchased this item to keep sensitive equipment from dust during construction. Did a great job of keeping our equipment safe."
Happybuy's paint booth is made of 0.45mm PVC and PU coating, making it one of the most durable options available. The product is moisture-proof, UV resistant, flame resistant, and breathable.
Prices and sizes:
28x15x10ft = $1027.99
20x13x8.5ft = $755.99
13x8x7ft = $559.99
Why we like it: This particular model is very durable, and it's made of 210D oxford fabric and 0.45 PVC. The filtration system is effective at clearing out dust and dirt, keeping your workspace squeaky clean.
Key features
Dustproof working space
Moisture-proof, UV-proof, flame-resistant
Carbon filter for cleaner workspace
0.45mm PVC and oxford cloth
"This would be great for a hobbyist, or weekend warrior. It's the perfect size to fit any full-size vehicle. If you have any issues the company is great to work with and they will respond with a great solution."
"Strong seams and good zippers. Blows up quickly, plenty of pressure to maintain structure."
While there are many smaller paint booths available on the market, we're partial to the WeLucky model. Sized at 13x10x8ft, it's one of the best options for smaller projects.
What we like about it: This product is small but mighty, made of the same oxford cloth, PVC bottom, and PU coating you've come to expect.
Key features:
Only two fans needed for inflation and filtration
Prolonged service life
Replaceable air filter (many models are not replaceable)
Repair kit included for small patch jobs
Lighting is an important part of every paint project, but many models we've described above don't come with hooks for lighting or translucent windows. The OZIS inflatable paint booth includes hooks for hanging lamps or other lighting to make sure your project gets done right.
What we like about it: OZIS builds their paint booth with lighting in mind. It's also surprisingly affordable without sacrificing any of the major accessories.
Key features:
Silver coating for better lighting
Oversized filter window
Two air outlets for quick deflation
Large blower for both inflation and filtration
What customers are saying:
"We are happy with this product and price. Don't hesitate it works great and will get the job done."
While most of the paint spray booths we've described in this article can be used in automotive industries, GorillaPro's product is actually designed for the automotive industry. A senior car beautician helped design the product, so it's built for car lovers.
Size and price: 26x16x11ft = $999.98
Why we like it: There's a special hanging buckle for LED lamps and an inlet for a power line. The lighting on this product is exceptional and gives OZIS a run for their money. If you're looking to detail cars, this booth is worth checking out.
Key features:
Dust-free work environment
Built for automotive industry
450W and 950W blower
Replaceable filter
Only weighs 60lbs
What customers are saying
"Just got this delivered (26x16x11) and out of the box it looks to be of good quality. It inflated in less than 2 minutes. Will have plenty of room for most cars and trucks."
"I bought this spray booth to paint my car and the weather dropped below 70 degrees so I am going to use the booth next spring. When the weather is warmer."
Size and price: 13x10x8 ft = $539.99
Why we like it: The price is right on this 13x10x8ft model. This Bonnoth spray paint booth takes less than 5 minutes to inflate — you'll have a clean working space in no time with only a 750w blower.
Key features:
Oversized, replaceable air filters for good circulation
Comes with one 750w blower to inflate and circulate air
Good for smaller cars, furniture, and other spray jobs
Undergoes quality tests before being shipped out
Important considerations
While this model is affordable, it also comes with some important limitations:
This model is not waterproof and it must be kept dry at all times
The product is also not fireproof
It can be deflated by sharp objects
This is true for almost all paint booths we've reviewed, but it's important to know before you buy!
If you're looking for a cheap, DIY friendly paint shelter, you can't go wrong with Nordstrand. In fact, it's not even an inflatable or blow up paint booth — it's simply a tent that's designed for painting.
Size: 8.5 x 5.5ft
Price: $64.90 (23% sale on Amazon as of 4/24/21)
Why we like it: Nordstrand's paint shelter tent offers a cheap alternative to relatively pricey inflatable paint booths. If you're a DIYer that doesn't need to paint a car, boat, or other large asset, you'll only need a simple paint tent.
Key features:
Extremely portable with easy set up
Easy clean up
Affordable
What customers are saying:
"I set this tent up in my garage. It was so convenient to go out and spray paint what I needed and not worry about getting paint on everything else as it settled. I also enjoyed that it stopped dust from other projects from settling on the wet paint."
Inflatable Paint Booth Accessories
If you decide to purchase one of the paint booths we've listed above, consider the accessories you'll need for your paint projects. Potential accessories could include:
Air filters: You'll want to stock up on air filters if you plan on having multiple paint jobs. New air filters will keep the air quality fresh with each new project.
Additional fans: All of the spray booths we've mentioned above come with fans that inflate the booth, and most come with fans to circulate airflow. However, you might want to consider additional fans either to inflate the booth faster, or fans for more airflow
Exhaust vents: Some models (such as Sewinfla) come with optional exhaust ports for additional airflow. These are particularly important if the booth is in an indoor area where ventilation is important.
Vinyl hoses / ducting: If you're using an exhaust vent and fan for circulation, a vinyl hose can carry toxic fumes away from your booth as you paint.
Fan + hose combo: If ventilation is a serious concern, you might want to consider the MaxxAir Cylinder Fan and Blower combo. All-in-one solutions like this can make your life a little easier — just make sure your set up supports a 12 inch fan.
Note that you should always follow the EPA's guidelines for healthy indoor painting, regardless of whether or not you're using a booth.
Most Asked Questions About Inflatable Paint Booths
How much does an inflatable paint booth cost?
Inflatable paint booths cost between $500 and $3000, depending on the size, brand, quality, and accessories. Sewinfla paint booths offer low prices and great value. Tent paint booths can cost less than $100 but don't include air filtration systems.
How do inflatable paint booths work?
Most inflatable paint booths use 1 to 3 blowers between 300W and 1000W to inflate the booth. Once inflated, a second or third blower is used to filter air and keep the environment clean and safe.
How do you make a cheap paint booth?
A cheap alternative to purchasing a booth can be hanging thin tarp in a garage or basement. Be sure to properly ventilate the area and use appropriate equipment.
Do you need a paint booth to paint a car?
Not necessarily, but a paint booth ensures the environment you're painting in stays free of dust and debris that can ruin a paint job. When quality is important, consider an inflatable paint booth
How do you prevent dust when painting?
A DIY or manufactured paint booth is one of the best ways to prevent dust while painting. It's also important to prepare the surface you're going to be painting before you begin.
Are inflatable paint booths waterproof?
No — of the 12 models we've reviewed, none are waterproof and should be kept out of rainy conditions. Most warranties will not cover water damage.
Does Harbor Freight offer inflatable paint booths?
Harbor Freight doesn't offer inflatable paint booths like we've discussed in this article, but they do offer "portable sheds" where you can do your painting. However, these don't offer the same protective environment and airflow you can expect from the models we've described in this article.
Editor's note: This article was updated June 1st, 2022.