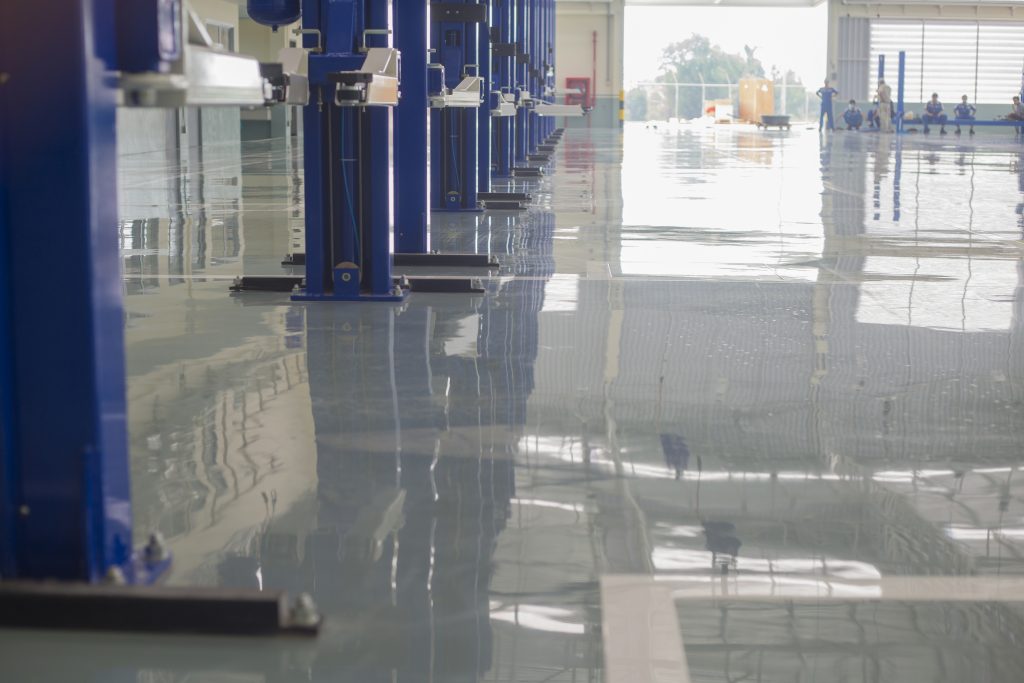 When you're working on an industrial flooring project, it can sometimes be quite difficult to find the proper coating to complete your projects. There are a wide variety of coatings on the market, from silicone to epoxy.
Some of the most exciting new formulations to emerge are self-leveling epoxies, coatings that naturally level themselves (with proper preparation).
What is Self-Leveling Epoxy?
A self-leveling epoxy is created by mixing resin and hardener from separate containers. Once the solution is created, the mixture is poured onto the desired surface and flows to level itself out. The resulting coating is around ⅛ inch thick usually.
After the product cures, it remains clear and becomes scratch and water resistant. Depending on the products you mix, you can achieve other qualities, such as UV resistance, chemical resistance, and heat resistance.
Self-leveling epoxies are considered quite durable – often referred to as "bomb proof" in the industry – which makes them a solid choice for high-traffic or specific condition applications.
Ready to connect with an industrial coatings professional that can provide the best self-leveling epoxies at a fair price? CDN Paint can help — start here!
Benefits of Self-Leveling Epoxy
Self-leveling sealants have a variety of benefits, especially for flooring projects. Here are some of the reasons self-leveling sealants are a great fit for your project:
Strength
Epoxies are known for being "bomb-proof" and extremely durable sealant options. These products are able to withstand large amounts of heavy foot traffic or machinery. The coating has superior strength that often allows it to last for years without needing reapplication.
Environmental Resistance
Epoxies are known for their durability to heat and chemical compounds. They remain durable even with caustic chemicals and solvents. Additionally, they are extremely heat and UV-resistant.
Cleanliness
Certain sealants require specific cleaners, but epoxies do not. To clean a self-leveling epoxy sealant, you only need soap and water. Unless compliance regulations require it, you do not need to spend extensive time buffing, sanding, and repolishing this coating. For jobs that need higher cleanliness, some epoxies also offer high anti-microbial properties.
Slip-Resistant Finish in a Variety of Colors
In addition to the strength, these sealants also offer a nice clear finish that is slip-resistant with a superior grip. The best thing about epoxies is that they come in a variety of colors and finishes, to add a visually appealing aspect to your project. Epoxies can also come with metallic additives that create a shimmering effect. They have an even distribution of coating, making them a popular option for attractive flooring solutions.
Preparation and Application
Consider the following surface preparation and application tips before getting started with a self-leveling epoxy.
First, check the project timeline and find the appropriate product. Some sealants require up to 48 hours before floor cover installations, while others are ready to accept moisture-sensitive flooring within 12 hours.
To prepare the surface for coating, make sure to first seal any floor gaps and install termination dams to avoid seepage. Review the moisture specifics of your chosen epoxy and make sure any floor moisture issues are resolved before application. Additionally, use a strong cleaner on the floor first to remove any chemicals, dirt, or oils that could inhibit proper bonding.
For the most seamless installation, consider first purchasing and applying a primer to even the surface and create a strong bond. At an average temperature of 70 degrees, primers should cure for at least eight hours, but not more than 24, before adding the self-leveling sealant.
Important note: To properly apply this product, you will need special application equipment such as spiked shoes and a spiked roller or trowel.
To achieve the best results, cure the epoxy in a warmer temperature for around 72 hours. Avoid cold-curing in order to ensure maximum strength and durability. To increase the pot life of the sealant, reduce the amount of generated heat from the mixing stage, mix in smaller batches, or select a slower hardener.
While these are the general rule of thumb times, always consult with your product packaging for time specifics. Still have questions about how to prepare or apply self-leveling epoxies? Consult a CDN Paint representative today to receive answers to your questions!
Self-leveling Epoxy Alternatives
Self-Leveling Epoxies vs. Self-Leveling Polyurethane
These two products have a lot of similarities but also have crucial differences.
Self-leveling polyurethane is known for its flexibility and elasticity, while epoxies are known for their hard texture and durability. For projects that need higher flexibility, consider polyurethane over epoxy.
Polyurethane is also more resistant to natural chemicals, while epoxies are durable to harsher, more acidic man-made chemical compounds. PU sealants tend to be extremely sensitive to humidity, while epoxies are better for humidity and temperature fluctuations.
While the products do have separate advantages, costs will vary depending on the type of PU or epoxy as well as the different additives needed.
Self-Leveling Epoxy vs. Roller-Applied Epoxy
Epoxies often come in self-leveling or roller applied options, each with their own differences in cost, appearance, and application. In application, self-leveling epoxies are poured and allowed to spread and level on their own. Roller epoxies are consumer-applied with a roller to coat the surface.
For appearance, self-leveling epoxies level to create a smooth and mirror-like finish without gaps or cracks. Roller applied epoxies tend to show light to moderate texture depending on the surface. Roller epoxies also have a thinner coating, which does not allow for a smooth finish.
Roller-applied epoxies tend to cost less as there is only about 400 micron thickness needed. Self-leveling epoxies require a thickness of around 1.5 to 2 millimeters. Generally, self-leveling epoxies are much more costly, but they are outstanding for projects with significant unevenness, dents, cracks, or gaps, which are too tough for roller applications.
Is It Time To Begin Your Project?
At CDN Paint, we know just how important it is to pick out the proper sealant to fit your project needs. Contact a CDN Paint representative today to get help with your project and to have your questions answered!