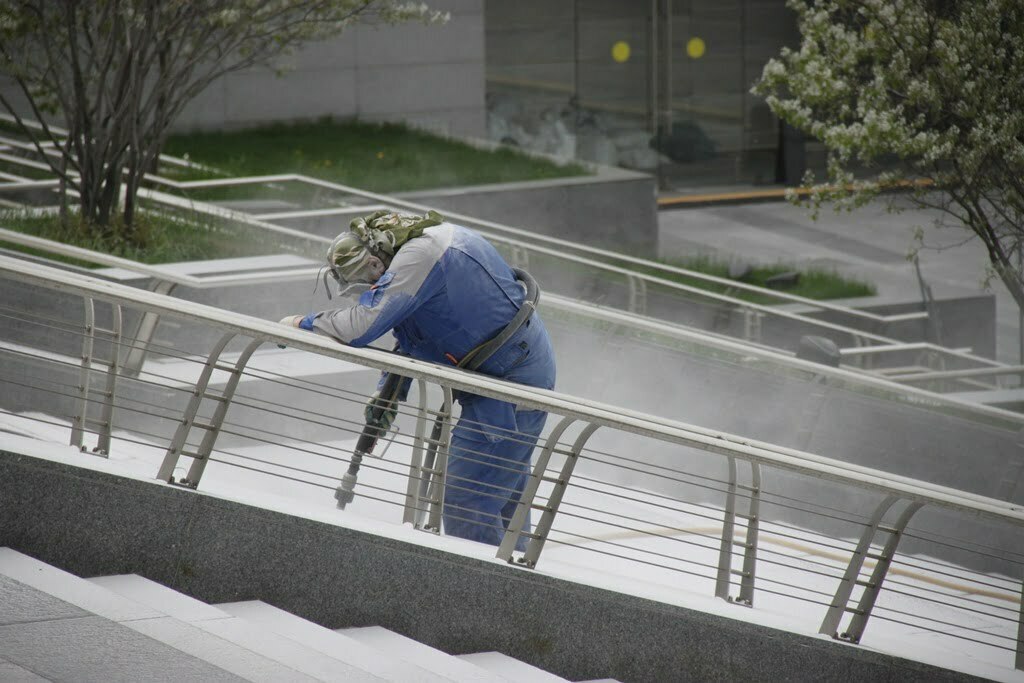 Editor's Note: IPP Magazine may receive a commission for affiliate links.
Sandblasting can be a tricky topic. You'll want to be up to date on sandblasting procedures for your project. Read on for a quick and comprehensive guide to sandblasting.
What is sandblasting?
Sandblasting is a procedure used to smooth the texture of a surface. For sandblasting, people use a machine to blast abrasive materials, known as "media," against a surface. This can be done with an air compressor, and the particles blasted against the surface are often sand.
When sand is forced against surfaces, the technique is sandblasting.
However, there are several other types of media blasting. Performed with metal shot, shot blasting is among the most abrasive. Milder forms of medium blasting include glass bead blasting and plastic media blasting. In this article, we will focus on sandblasting.
Sandblasting can be done in the field with an air compressor, but it can be also be done in shop via a sandblasting cabinet or booth.
What are the different types of sandblasters?
Sandblasting can be done with several types of sandblasters. We'll summarize a few below.
Gravity-fed: A gravity-fed sandblaster is composed of three basic sections. These include (1) a pressurized tank or air compressor, (2) a hand-held pressure gun, and (3) a hopper filled with sand. These sandblasters use air and gravity to push out sand.
Pressure: Blasters that work through pressure are one of the easiest sandblasters to use. They are often used by commercial organizations. Pressure blasters are essentially large canisters that contain sand under high pressure. When a hand-held trigger is pulled, pressure blasters release the sand.
Siphon: These sandblasters are one of the cheapest to use. Siphon sandblasters work with an air compressor and reservoir of loose sand. The sand can be collected and reused. This feature makes them cheaper than other sandblasters.
How does sandblasting work?
Sandblasting uses abrasive materials to smooth surfaces. Each kind of sandblaster has a unique mechanism for the sandblasting process. We'll go over them below.
Gravity-fed: These sandblasters work with air compression. The air forces media out with a hand-held gun. When the trigger is pulled down, gravity-fed blasters shoot air through the gun. Then, with air and gravity, sand is blasted out of the gun and onto a surface.
Pressure: Blasters that work through pressure are one of the easiest sandblasters to use. They are often used by commercial organizations. They are based in a large canister of sand that is held under high pressure. Much like an aerosol can, air and sand are forced out when the trigger is pulled.
Siphon: Siphon sandblasters use basic components. This includes an air compressor and reservoir of loose sand. When the trigger of the sandblaster gun is pulled, the air sucks the sand from the reservoir and onto a surface.
Different materials used for media blasting
There are several different materials that can be used for media blasting. They each have different strengths. Depending on your project, you may want to use a specific type of material for media blasting. Read below for a summary of each type.
Aluminum Oxide is one of the most common materials for finishing a surface. Because it is strong and long-lasting, it can be reused many times.
Crushed Glass is best used to remove heavy coatings or contamination from a surface. Crushed glass is a light material, and most jobs require less crushed glass than other media.
Glass Beads are an excellent material for polishing surfaces during blasting. They leave a bright and smooth finish. Glass beads can also be recycled and reused.
Plastic is best used for stripping coatings from a surface. Plastic can strip paint from delicate metals, automotive surfaces, plastics, and more.
Silicon Carbide is the hardest blasting media, which makes it work quickly. Silicon carbide is an excellent choice for etching stone and glass. It can be used and recycled repeatedly.
Pumice is the material that you'll want to use for light blasting jobs. When you need to protect underlying materials, consider pumice blasting media.
Steel Shot is the ideal material for stripping metal surfaces. It will leave surfaces with a polished, shiny finish.
Steel Grit is among the most aggressive approaches to media blasting. It works quickly and removes many contaminants. For example, if you need to etch metal, you might consider steel grit.
Organic Materials are an environmentally friendly choice. These include corn cob and walnut shells. If you need a delicate touch, use corn cob. For more aggressive stripping, opt for walnut shells.
Restrictions around sandblasting
The Centers for Disease Control and Prevention has documented health restrictions around sandblasting. Exposure to crystalline silica can result in lung damage. The luna damage may progress and develop into silicosis. If the condition worsens, breathing becomes difficult and may result in death.
The National Institute for Occupational Safety and Health has set safety recommendations for crystalline silica exposure. These include prohibiting materials that use more than 1% crystalline silica. They also recommend using methods to contain blasting. This helps to keep people near the blasting protected.
Above, we discussed substitute materials that don't have these health concerns. Glass beads, pumice, steel grit, steel shot, and walnut shells are all alternatives.
How much does sandblasting cost?
The cost of sandblasting depends on several factors, including intensity and work surface.
For example, the depth of a light sandblasting job is about 1/32 of an inch.
That may cost you around $1-$3 for each square foot of sandblasting. For a deeper job of about 1/16 of an inch, the price may rise to $2-5 per square foot. Heavier sandblasting around 3/8 of an inch deep may cost up to $7-$16 for each square foot.
| | | | |
| --- | --- | --- | --- |
| Type of sandblasting | Light | Medium | Heavy |
| Depth of blast | 1/16″ | 1/16″ | 3/8″ |
| Cost per square foot | $1 – $3 | $2 – $5 | $7 – $16 |
In some cases, companies may charge for each hour of labor. Light and medium sandblasting jobs average $45-$60 per hour. Heaver jobs may cost up to $75 per hour.
You will also want to consider the cost of the materials. A 20-kilogram bag of sand may cost $50.
The type of equipment used for sandblasting also affects the cost. An air compressor might cost $90-$200. A blast booth or blast room is more costly. Prices for blast rooms may vary from $25,000 and higher.
Taken together, the cost of sandblasting depends on the surface area and time to complete the job.